I made this cake for my sister, Valerie's, birthday. Growing up she liked the Wizard of Oz and still does, so I thought this would be good for her.
The basic idea for the cake came from a magazine article my sister, Casandra
, read and told me about. The basic idea being a cake that is only black and white (no color) on the outside and then when you cut into it it's rainbow on the inside.
I loved the idea and couldn't wait to use it, but I decided to modified it a little. Instead of white and black I decided to do white and brown (sepia :) ). I used shaved chocolate for the brown accents on the outside instead of icing. (They had suggested that you could draw swirls and stuff with black icing on the outside in the article.) I used some bigger curls of chocolate and some little shavings to give the look of debris from the tornado while still getting the dark/light contrast. It's hard to see under the chocolate, but the pattern in the white icing on the top of the cake is a big swirl going out from the middle.
I made the tornado out of wire, and then I hung the house and fence from it with fishing line so it would look like they were flying around in the tornado. There was supposed to be a cow too, but I ran out of time. :) I made the house and fence out of fondant. The cake was on a turntable so you could spin it and make the house and fence swing out a little and look even more like they were spinning in the tornado, but we only spun it once because it was a little more top heavy than I had anticipated and I didn't want the tornado to fall over. :)
I didn't tell anyone that it was rainbow inside, so when we cut into it and everyone saw the rainbow colors it kind of gave that 'magical' feel like the movie had in that scene. I used a checkerboard cake pan set to get the different sections of color. (The original idea from the article was to have colors layered one on top another, but I had gotten this checkerboard pan for Christmas and hadn't used it yet, so what better time. :) ) To get the different colors I just used a white cake mix and then mixed food coloring into the different parts of the batter before I baked it.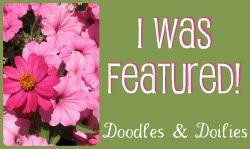 ------------------------------
Parties I've Linked This Post To: